Professional Sarasota Hardscape Design To Enhance Your Garden's Natural Elements
We'll Help You Turn Your Outdoor Space Dreams Into A Beautiful Reality With Our Hardscape Services.
Creating The Outdoor Area Of Your Dreams
If you are lucky enough to have a garden, backyard, patio, or any type of outdoor space, then you will agree with us when we say that it's essential to look after it in the best way possible.
This, of course, includes taking care of the natural elements — such as plants, flowers, bushes, and so on — but it also means adding some gorgeous, stylish, and practical man-made structures like paths, walls, and more.
Are you based in the Sarasota, Florida, area and looking to beautify your outdoor space with some great hardscaping elements? Then, you've come to the right place.
Unveiling The Potential Of Hardscaping Features
When designing a garden, most people tend to focus exclusively on natural elements. They invest a great deal of time and money in selecting, planting, and nurturing a wide array of blooms and trees and eventually achieving a beautiful, vibrant green space.
But what if we told you that there are ways to enhance your outdoor area even further? This is what hardscaping does. Hardscaping features such as an outdoor fireplace or a practical stone walkway offer a ton of benefits to your garden. They add beauty and style while at the same time contributing to the accessibility and value of your property.
At Sarasota Lanscaping Inc., we excel at installing driveways, pool decks, stone paths, brick paver patios, and much, much more. Stick around to find out how you can get that gorgeous backyard that you have always dreamt of.
Expert, Professional, And Bespoke Hardscaping Services
At Sarasota Landscaping Inc., we specialize in designing, building, and installing high-quality, stunning hardscaping elements that can enhance the look and feel of any outdoor area. Whether you are looking for just a tiny addition to spruce up a small patio or if you are seeking a complete revamp of a much larger backyard, we are the right people for the job.
Driven by passion, enthusiasm, and a ton of knowledge and experience in brick pavers and other hardscape solutions, we will be able to help you pick the perfect features for your space, and we will then proceed with the final installation.
How Our Process Works
Hardscaping is not an easy job, but choosing our hardscaping services is. Find out how we make it extra simple in just three steps.
Step 1: Contact Us
Fancy knowing a bit more about how our hardscaping services can enable you to bring your outdoor space to life? Contact us right away to receive a free, no-strings-attached estimate for exactly the type of works that you would like to be carried out in your outdoor area.
Step 2: Schedule Your Hardscaping Works
Happy with your quote? Fantastic: we would love to get to work ASAP. Simply let us have your availability for when we can commence our hardscaping project, and we will be there. We will take care of everything, from prep work to bringing all the right tools and materials. Just sit back and relax while we make your outdoor living dreams come true.
Step 3: Enjoy A Stunning, Revived Outdoor Space
We commit to carrying out the works in a fast, efficient, and hassle-free way, trying to minimize any disruption to your day. In just a matter of days (depending, of course, on the scope of your project), you will be able to enjoy a revived, gorgeous outdoor area where natural and man-made elements go hand in hand.
Why We Are The Highest-Rated Hardscaping Experts In Sarasota, FL
At Sarasota Landscaping Inc., all our work revolves around our four main values of experience, customization, local service, and sustainability.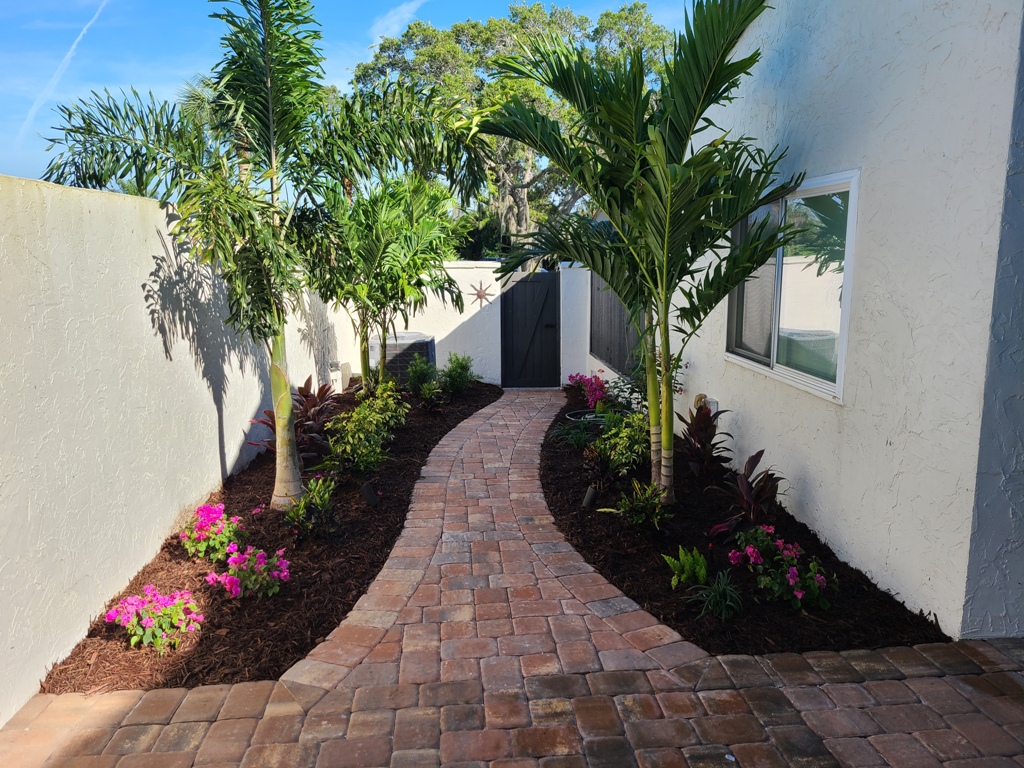 Long-Standing Experience
Our 15 years (and counting) of landscaping and hardscaping experience are proof that we are driven by a lifelong passion for and outstanding knowledge of outdoor living solutions.
Custom Hardscaping Solutions
No two gardens are the same, so we believe that no two hardscaping projects should be the same. We don't follow a one-size-fits-all approach: we tailor our hardscaping solutions to your exact requirements, preferences, and goals, whatever they may be.
Hyperlocal Presence and Know-How
Our roots are in Sarasota, Florida, where we were founded and where we continue to operate to this day. We are passionate about serving our thriving community by providing the best and friendliest hardscaping services in the area.
Sustainable Processes
As a landscaping and hardscaping company, we love the environment — and we love to do all we can to safeguard it. Our commitment to sustainable and responsible practices, processes, and materials for environmental conservation is unfaltering, and you will be able to appreciate that throughout your journey with us.
Would you like to hear what our customers have to say about us? Then, check out our Testimonials page.
How Much Do Our Hardscaping Services Cost?
We strongly believe that everyone should get the wonderful outdoor space that they dream of, regardless of their budget. For this reason, we have created a fair and friendly pricing list, which makes our hardscaping solutions accessible and affordable.
Elevate The Natural Appeal Of Your Garden With Our Stunning Hardscaping Elements
If you are serious about designing an outdoor space that brings together nature and man-made features in complete harmony, you need the hardscaping services from Sarasota Landscaping Inc.
Ready to Transform Your Landscape?
Contact us today and say goodbye to your sad, boring landscape. We create beautiful landscapes in Sarasota County, Manatee County, and surrounding areas in Florida.