Exceptional Landscape Lighting Design in Sarasota, FL
Illuminate your home and stunning landscape design with a quality lighting system. Well-placed outdoor lighting accentuates your landscaping and improves the value of your home.
Highlight Your Home's Best Features
You've worked hard to create the perfect outdoor oasis for your home. Now it's time to show it off with a well-designed lighting system. The right landscape lighting design tells a story. It draws your eye across the exterior of your home and bathes your yard's best features in a pool of light.
Highlight stunning architectural features and draw attention away from features that still need some work with quality lighting. Give us a call today to schedule a free consultation for your landscape lighting design.
Landscape Lighting Design Is Just One of the Many Services We Offer
At Tropical Landscaping of Sarasota, we are a full-service landscaping company. We provide stunning landscape design and installation services for all of your outdoor spaces. We work with both residential and commercial clients to provide high-end landscaping that enhances Sarasota's natural beauty.
Each job is customized to your exact needs, so you know you are getting a beautiful, natural landscape design that you can be proud to show off to friends and family. We install gorgeous tropical plant life, retaining walls, hardscapes, pavers, french drains, and more to ensure that your outdoor oasis is as functional as it is beautiful. We also offer privacy solutions such as installing rows of dense plant life. 
We pride ourselves on our high level of craftsman and attention-to-detail, so you know you are getting the best quality from start to finish. Give us a call today to learn more about all of the services we offer.
Landscape Lighting Design Ideas to Get You Started
The possibilities are endless when it comes to landscape design.  Your designer might use many techniques to craft a creative lighting display. When working with your designer to create a plan, here are some design elements to consider.
Determine the Function of Your Outdoor Space
Landscape lighting is more than just beautiful. It is also functional. It allows you to enjoy your landscaping any time, day or night. When designing landscape lighting, you'll want to consider how you intend to use the space. You might want to relax on the porch with a friend or use your yard to host family gatherings and parties. Make sure you have the lighting you need to highlight your landscape design at any time of the day.
Bathe Your Lawn in a Moonlit Glow–No Moon Required
There is nothing more beautiful than a natural moonlit night. Unfortunately, few things in nature are more fickle than the moon. It is impossible to rely on Mother Nature to get consistent illumination. Make use of cool-toned lighting to drape your outdoor space in a soft glow.
Create Drama with Up-Lighting
Notice your home's exterior features, not the lighting. Dramatic up-lighting can add visual interest to your yard. Uplight your plants and other features without drawing attention to the fixtures themselves.
Highlight Your Flowerbeds Day & Night
Flowers add beauty and elegance to any outdoor space. You do everything you can to ensure that your plantlife looks great and stays healthy. Why not show it off 24/7 with our beautiful landscape lighting?
Enhance the Majesty of Your Palm Trees
Nothing says tropical like elegant palm trees lining your property. Enhance their appeal twenty-four hours a day with our beautiful up-lighting. Your palm trees will make a statement on even the darkest nights.
Think About Your Design from Every Angle
One of the main reasons you may be want to install landscape lighting is for curb appeal. The truth is your lighting should look great from every angle. Walk around your property and peer through each window to make sure your new lighting solution meets your needs and highlights your landscaping.
How to Get Stunning Landscape Lighting Design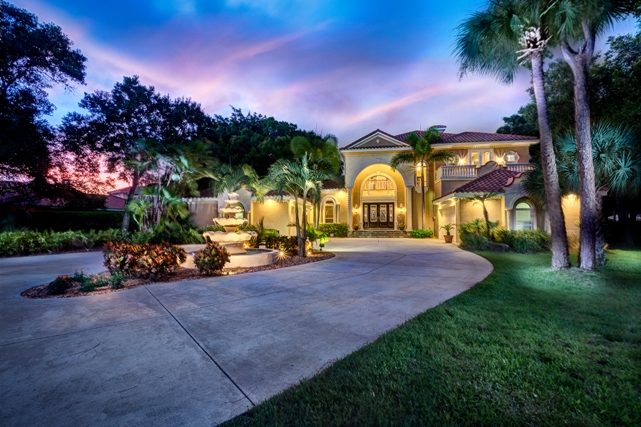 Step 1: Give Us a Call
Call to schedule an appointment and tell us about your landscape design and lighting needs. We'll get out to your property at your earliest possible convenience to talk about all of your options. Whether you simply want to up-light the landscaping already on your property or you want to renovate your outdoor space with quality landscape design completely, we are here to help. 
Step 2: Receive Expert Design
Our landscape lighting design starts with beautiful landscaping. Our design experts can help you get the plant life, hardscapes, and other design features you need to create a stunning outdoor oasis.  Once you are happy with the design of your landscape, it's time to talk about lighting solutions. We take your lighting design into account from all angles and determine the best way to light your landscape features and ensure safety. 
Step 3: Get Fast & Friendly Installation
Once you approve the design, we get started. We work quickly to minimize interruption to you and your neighbors without sacrificing attention to detail. Our team has years of experience and a reputation for quality, so you know you are getting the best service from start to finish.
Step 4: Enjoy Your New Space
Once we are done, all you have to do is relax in your newly lit space. Enjoy the beauty of your outdoor space day or night with our quality landscape lighting design. If you have any additional questions or need modifications, we are happy to help.
Why Choose Tropical Landscaping of Sarasota?
We have been serving Sarasota and the surrounding areas for more than fifteen years. We are committed to friendly pricing, passionate design, and expert installation. Whether you need palm tree installation, pavers, or other landscape features for your home or business, our talented team is here to help.
What Our Clients Are Saying
"The folks at Sarasota Landscaping came highly recommended by a friend, and they did not disappoint. The team was very professional, arrived each day when they said they would, and finished the project on time. They far exceeded my expectations! Our backyard and lanai area looks fantastic!"
How Much Does Landscape Lighting Cost?
Your landscape lighting needs are as unique as your home. All of our lighting solutions are tailored to fit your home's style and your budget. Give us a call today for the most accurate pricing.
Illuminate Your Lawn with Beautiful Landscape Lighting Design
If you want to show off your home's potential, consider quality landscape lighting. Give us a call to get the service you need today.
Ready to Transform Your Landscape?
Contact us today and say goodbye to your sad, boring landscape. We create beautiful landscapes in Sarasota County, Manatee County, and surrounding areas in Florida.