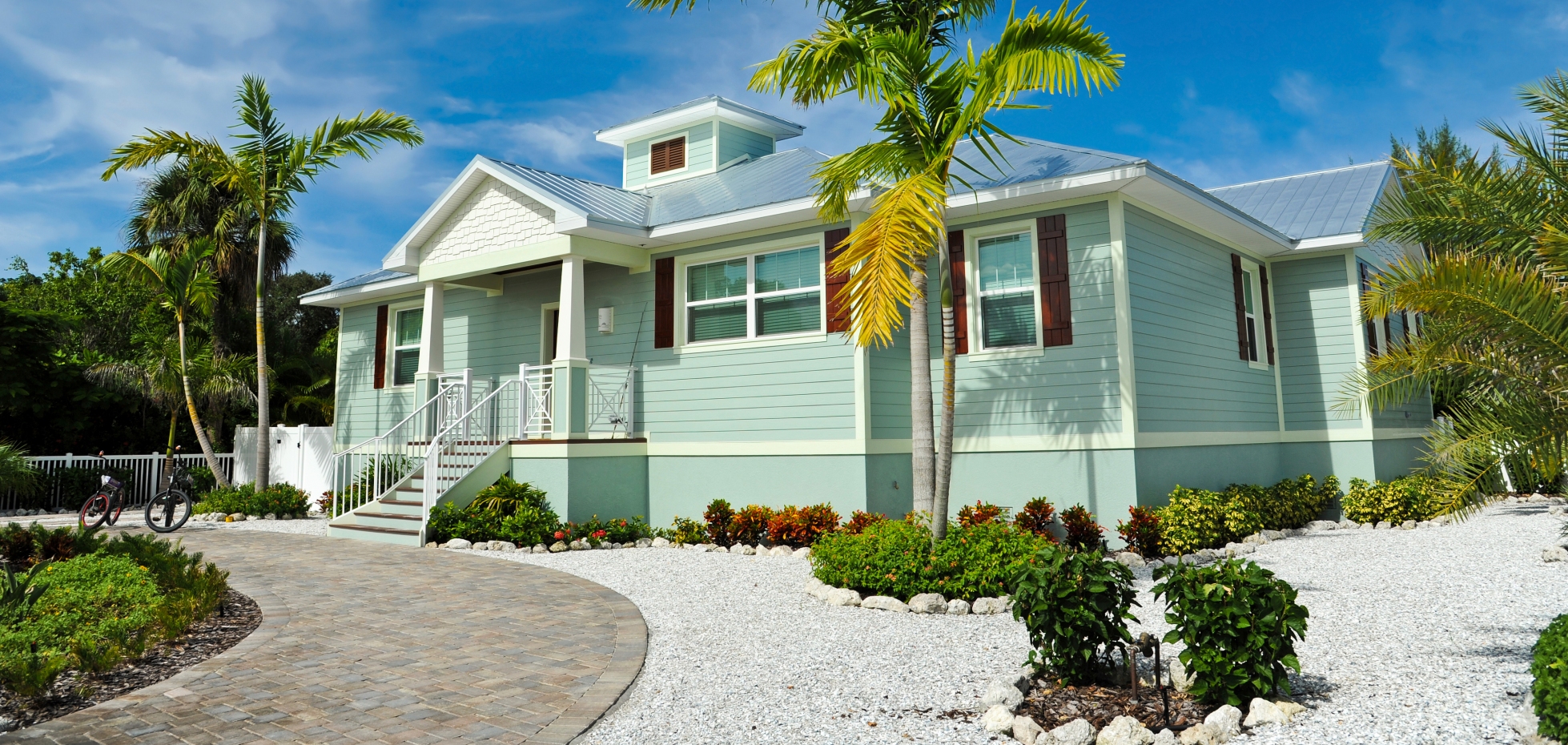 We recently completed a redesign of our front yard with the help of Tropical Landscaping of Sarasota and could not be happier.  Craig responded to our inquiry immediately and promptly set up an appointment to look at our property.  We knew we wanted to remove our grass and install a xeriscape-style yard and had some ideas of the design. Craig listened to our ideas and desires.  As a result of his experience and vision he designed a beautiful front yard that truly compliments our home, incorporating trees and plantings we had not initially considered.
The work was able to begin quickly after we had finalized the agreement and was completed in a few days.  The very talented and professional workers were on time, worked diligently and completely cleaned up at the end of each day. They effectively communicated any adjustments needed and worked with us when anything unexpected arose.  It has been a few weeks since completion and our new plants are healthy and thriving.  We have received many, many compliments from neighbors and passers-by on how beautiful our front yard now looks.  Thank you, Craig and staff from Tropical Landscaping of Sarasota.
Ann and David Vozzolo
Craig from tropical landscape, returned my call the same day and arrived 
at 10:30
 the next day, just as he said he would.  In 30 minutes he made an assessment of the work we needed done.  He gave a reasonable price for the work and called the morning after to say the work would be done that day.  And it was done.  The crew arrived and did the work in a fully professional way and mulched all the beds around the house.  I marveled at the beautiful work they did.  My wife and I were amazed and fully satisfied with the work.  Any more landscaping we ever need will be done by Craig and the tropical landscape company.  I highly recommend them for any landscaping you need.
Dan and Linda Raisovich
After contacting landscapers for pricing of re-doing the front yard, the only one that showed up was Craig Franca , from Tropical Landscaping. Craig was fair with his prices and had excellent ideas for re-doing the yard. I am happy to have found Tropical Landscape on the internet and they have done a secong job with us and it turned out great. RECOMMEND THEM , Jutta Nelson
Tropical Landscaping of Sarasota did a complete transformation  of our back and side yards. With Craig running the show, his great crew  took us from a messy ugly jungle to a pleasant outdoor space, including a paver walkway and patio.    Craig was courteous and professional.   It was clear that he wanted us  to be satisfied with the result of his work.  We are happy to recommend him. David & Debbie L.
Craig did a complete landscaping for me. He is a genius in what to plant and did a French drain on my side taking pooling water to drain into the street. He is competent and honest.
Rachel R.
From design to execution the entire experience was professional.
Being a landscaper (plantsman) myself I was more than impressed with my time spent with Craig and his crew. Kind, coureous and creative.
You can come up with your own idea or leave it to Craig, the result will be amazing.
From start to finish A+
Dini Lamot
"I can not believe what a great experience we had with Craig and his Tropical Landscaping Company. We called 4 companies for quotes to renew our landscaping at the front of our house. Craig returned our call the same day and was at our house the next morning. He was very professional and friendly. We had some ideas, but did not have a detailed plan on what we wanted to do. He listened to our ideas and described what he thought would work for our location and budget. The other three companies we contacted returned our calls several days and in one case a week later. They took several days to get back to us and their quotes were higher with less plants and uninspiring plans. We approved the contract with Tropical Landscaping Company and 6 days later they arrived as promised and in a day and a half did an amazing transformation for us.They were very careful to do a great job and clean up everything when they were done. All our friends are very impressed with the difference Tropical Landscapes' work made to our home.  I am very satisifed and will highly recommend them to all friends and family!"
Roger